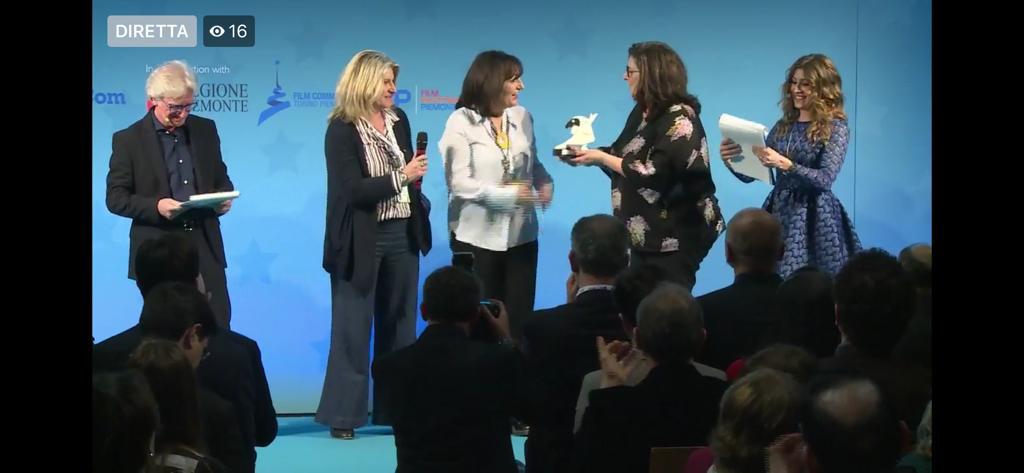 April 13, 2019
"JAMS" WINS THE PULCINELLA AWARDS AT THE CARTOONS ON THE BAY
"JAMS" WINS THE PULCINELLA AWARDS AT THE CARTOONS ON THE BAY AS THE BEST INTERNATIONAL FICTION TV SERIES FOR KIDS
Turin, Saturday April 13th 2019 – "JAMS", the first kids TV show in Europe about sexual harassment, wins the Pulcinella Awards for the category Best Live action TV Series at the Cartoons on the bay, the 23rd International Festival of Cross-Media Animation and Children's TV.
Created and produced by Simona Ercolani, CEO and Creative Director of Stand by Me, the series is a Rai Ragazzi and Stand By Me co-production, broadcast from 11 to 22 March 2019 in prime time on Rai Gulp and always available on RaiPlay.
"Creating and producing kids content –says Simona Ercolani-  is a privilege. In the case of Jams it is even more: together with the pleasure of working with and for the kids, we have added our positive mission, to help them deal with the issue of harassment. Helping them to decipher the ambiguous behaviors of adults, not to be manipulated and above all to talk overcoming fear and shame, an aspect that is really very dear to me. I am really proud of this recognition, and I thank Rai Ragazzi for the opportunity and the Bambino Gesù Pediatric Hospital for support. "
JAMS tells the story of Joy (Sonia Battisti), Alice (Giulia Cragnotti), Max (Andrea Dolcini) and Stefano (Luca Edoardo Varone), four inseparable friends and classmates who decided to participate in a cooking contest organized by the school. Their levity is threatened when Joy becomes a victim of sexual harassment by a family friend. Joy's friends will become aware of the problem and save her with the help of their parents. 
JAMS is an innovative series that has received excellent critics' listening and appreciation: filmed with the innovative technique of constructed reality, in which the acting is mostly linked to spontaneous improvisation, has captured the attention also from the international press for the attempt to bring children closer to a delicate subject as important as that of harassment using their own language, their codes and narrative lines typical of the story of entertainment for children.
"JAMS" is a Rai Ragazzi and Stand By Me co-production. A series by Simona Ercolani, written with Angelo Pastore, Mariano Di Nardo, Josella Porto, with scientific advice from the Bambino Gesù Pediatric Hospital. Directed by Alessandro Celli. Guest star Alessandro Borghese. The young singer-songwriter and actor Ruggero Pasquarelli plays the theme.
Always committed to bringing to the screen stories that are original, real and contemporary, ranging widely in genres and formats, from fiction to docu-reality, from factual to infotainment, the Italian production company Stand by Me continues to grow in the kids & teen target. After the TV series "Sara e Marti" (on air on Disney Channel with the second season and Rai Gulp) and "Jams", the production company is working on "Lettori Young", a show soon on air on LaF (Sky channel 135) that tells the true stories of how the life of many young Italian readers is intertwined with the books that have changed and affected them the most.